Mission
The GW Center for Injury Prevention and Control seeks to reduce death and disability from injury by promoting existing prevention methods, optimizing trauma care through education and collaboration with the community, and researching human behavior for insights that advance the field of injury prevention.
Announcements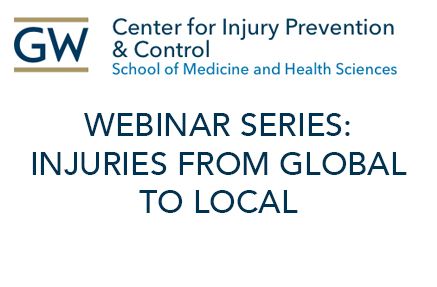 "Injuries from Global to Local: A Webinar Series":
We held our second webinar episode of "Injuries from Global to Local: A Webinar Series" (2/13/2023, noon-1p) from the GW Center for Injury Prevention & Control on the topic of fall prevention featuring physicians from GW and guest contributors Nathan Estrada DPT from Nymbal Sciences and Manual Hernandez PhD from the Mobility and Fall Prevention Research Laboratory at the University of Illinois Urbana-Champaign.
Please visit our webpage on Education and Outreach for more information and a recording of this webinar episode.
Raising awareness of aggressive driving via a TikTok social media campaign
We are excited to announce a new partnership with the DC Department of Transportation's Highway Safety Office involving a traffic injury prevention program that addresses aggressive driving in Washington, DC.  See below for more information and stay tuned for this novel programming.
The DC Department of Transportation's (DDOT) Highway Safety Office has recognized aggressive driving as a significant contributor to traffic crashes, injuries, and fatalities in the District. Between 2017-2021, 19.8% (2,537/12,787) of all traffic injuries involved aggressive driving and 48% (78/161) of all traffic fatalities involved speeding; of the 18,454 crashes attributed to aggressive driving, drivers were mostly male (61.9%) and between the ages of 21-35 (32.5%). Notably, DDOT FY2021 Highway Safety Plan indicated that FY2019 goals were not met as the number of speeding-related fatalities and injuries involving aggressive drivers exceeded target values.

To help the District achieve its goals of reducing fatalities, injuries and related economic losses resulting from traffic crashes on the District's roadways, programs are needed to address aggressive driving among male youth. Therefore, this application proposes the implementation of a public media campaign using TikTok, a social media platform that is popular with the population subset of interest, to raise awareness of aggressive driving and decrease aggressive driving habits of residents in the District according to self-report.
 Data-Driven Approach to Injury Prevention
We are proud to partner with DataCamp, an online learning platform that specializes in teaching data literacy for all skill levels and roles.

Contact Us
The Center for Injury Prevention and Control
Department of Emergency Medicine
George Washington University Medical Faculty Associates
2120 L Street NW, Suite 450
Washington, D.C. 20037
202-741-2904

Dr. Jesús Treviño, MD, MBA, FACEP
preventinjury@gwu.edu